Tour destinations
Thailand, Land of Smiles
Thailand is a country on Southeast Asia's Indochina peninsula known for tropical beaches, opulent royal palaces, ancient ruins and ornate temples displaying figures of Buddha, a revered symbol
Thailand is located in Southeast Asia, at the center of Indochinese peninsula and occupies 513,120 km2. The country is bordered by Cambodia to the East, Laos to the Northeast, Myanmar to the West

Thailand counts a population of 67,741,401 inhabitants divided into 70 different ethnic groups including the Thai, which is the main ethnic group with about 95% of the total population, and numerous other ethnic minority groups. Among these numerous ethnic minority groups, the most important in numbers are the Burmese, Khmer, the Malays and the Hmong. These different ethnic groups also have their own language, but the official language of Thailand is the Thai. The word "Thailand" means "country of free men" or "free country" and was adopted in 1939, the country was also called "Siam kingdom" until 1949.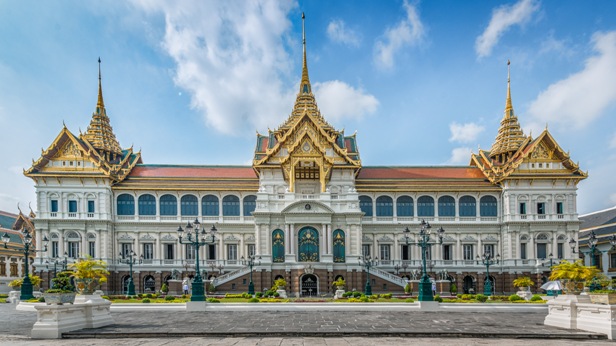 The country's capital is Bangkok, Krung Thep in Thai which means city of Angels, and is by far the largest city in the country 8,280,925 inhabitants (more than 10% of the total country's population). The city is located in the central part of the country in the Chao Phraya River delta. Other significant cities of Thailand by population count are Nonthaburi, with 270,609 inhabitants, Nakhon Ratchasima with 174,332 inhabitants, and the famous city of Chiang Mai in the mountainous regions of the North with 174,235 inhabitants. These numbers differ from one source to another and it is actually difficult to know how many people the capital actually counts as the numbers vary from some sources to other sources from 5 million to more than 8 million!
Thailand is mainly famous for its Southern part, and the sandy beaches of its numerous islands. The Southern part of the country has a long coastline on the Andaman sea, with 740kms, and the Gulf of Thailand with more than 1875kms. The kingdom of Thailand also has a large number of islands which offer an even longer coastline, but with more than 700 islands, it is almost impossible to accurately estimate the country's real coastline length. Those white sandy beaches attract numerous tourists every year, and especially people looking for clear water for diving and scuba diving as well as enjoying some sun, during the dry season, which lasts from November to March on the West Coast and from January to August on the East Coast. You might want to avoid the Southern part of the country (West Coast) during the months of April to October as heavy storms happen, creating intense floods.
Friendly and fun loving, exotic and tropical, cultured and historic, Thailand radiates a golden hue from its glittering temples and tropical...