Tour destinations
Best food to try in Vietnam
Vietnamese food has recently become more and more famous around the world with several delicious dishes, from Pho (rice noodle soup) to Banh mi (bread), spring roll to Bun cha (grilled pork with rice vermicelli), etc. Ciao Travel, as a local tour operator, lists out here for you some top Vietnamese cuisine for you to fulfill your Vietnam vacations.
1. Phở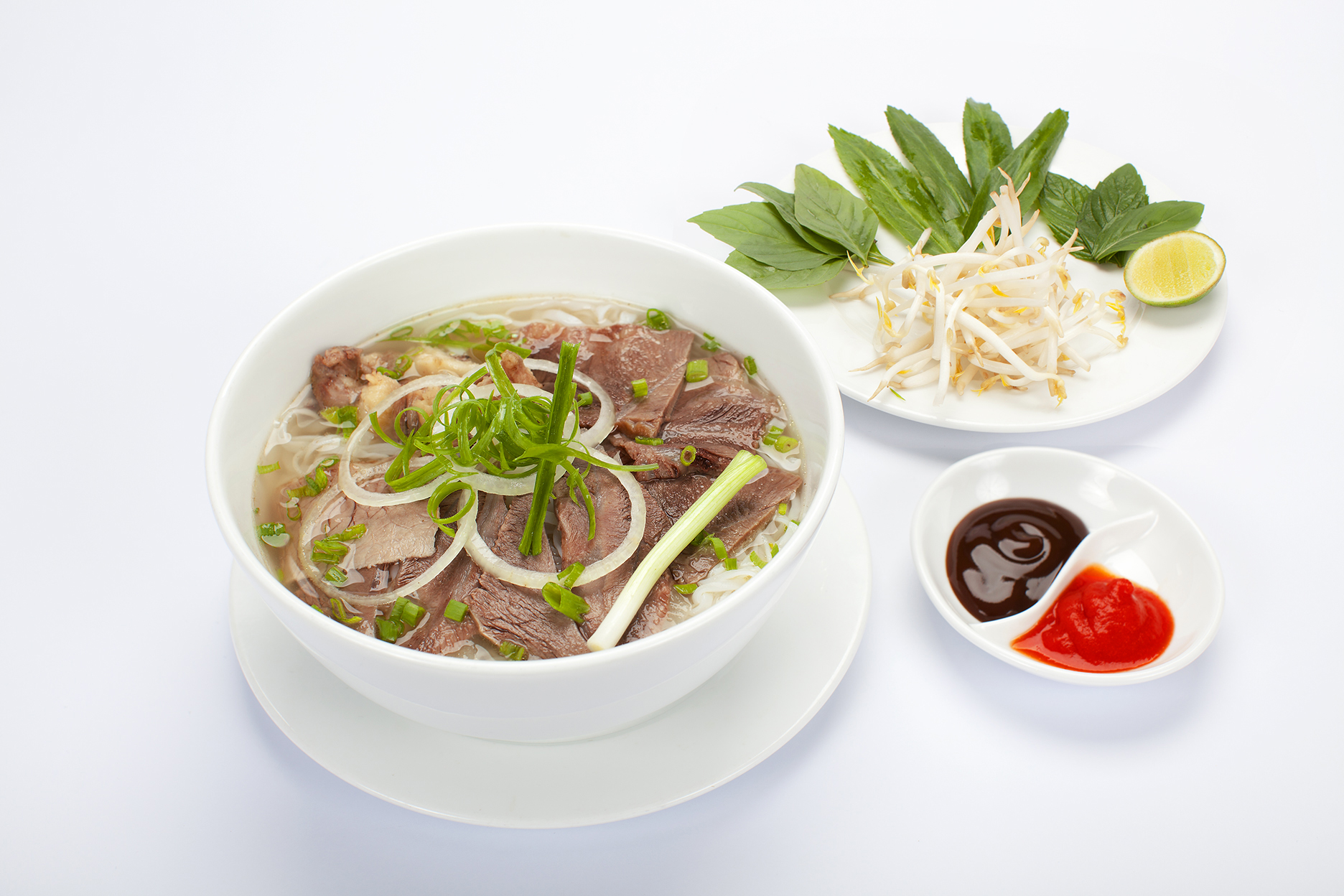 Phở, a noodle soup, is by far the most popular dish throughout Vietnam. Originally from Northern Vietnam, the dish became popular throughout the country during the Vietnam War, when refugees from the north migrated to the south, bringing the noodle soup with them. While a bowl of pho will always contain the basic ingredients of rice noodles, hot broth, herbs, and either chicken or beef, there are varying regional differences from Northern to Southern Vietnam, with southern pho being much sweeter than its northern counterpart. While pho can be eaten at any time of the day in the North, it is primarily a breakfast meal in the South.
2. Bún chả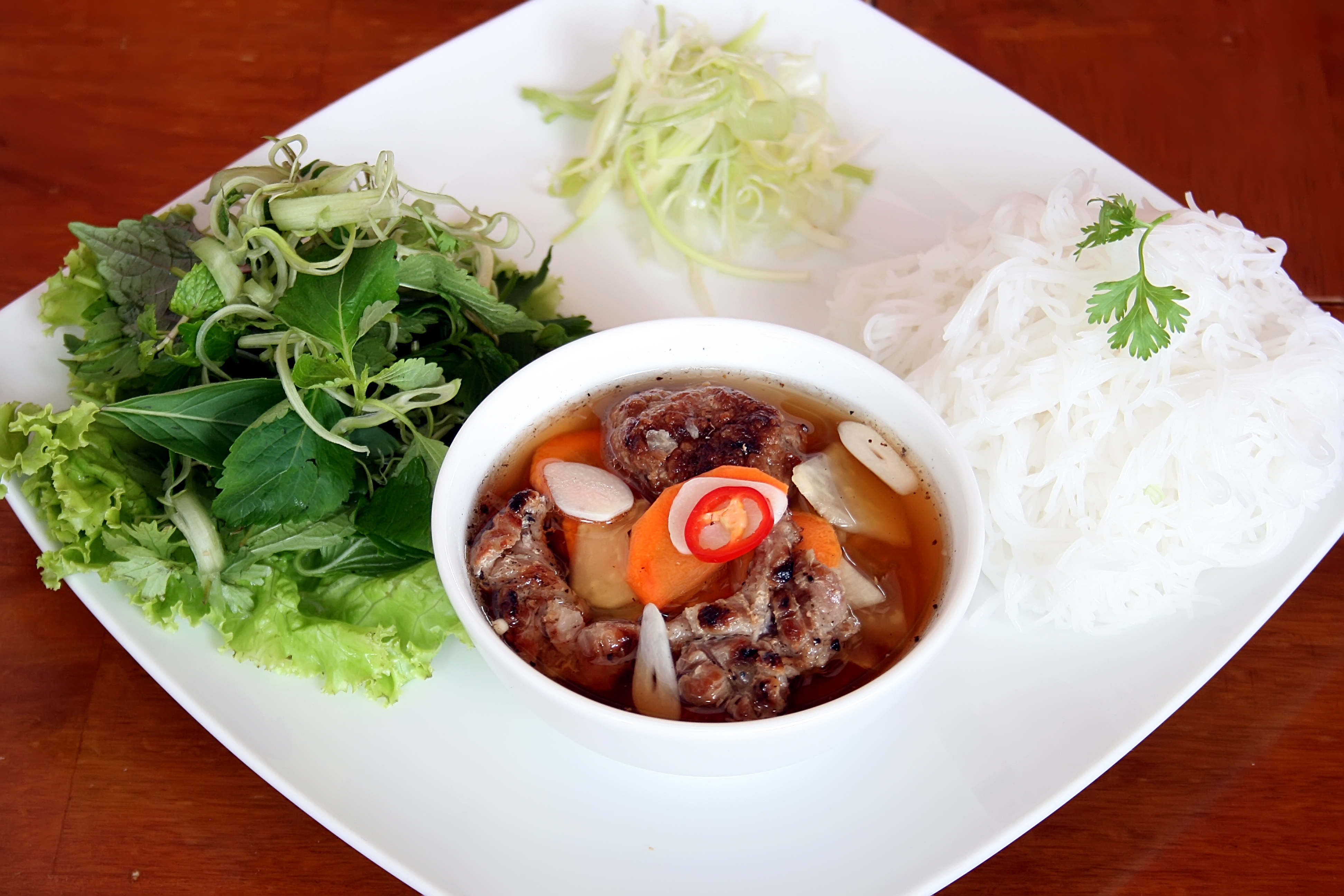 Bún chả is another dish originating from Northern Vietnam, in Hanoi. Bun Cha is another rice noodle dish that is served with a basket of green herbs and grilled fatty pork in two textures, sausage patties and bacon strips. There is also a dipping sauce made from cucumbers, carrots, vinegar, and fish sauce, with an occasional variation of adding garlic and chili in the mixture. The smoky flavor of the pork makes this dish very popular among locals and foreigners alike, and can be eaten for breakfast or lunch.
3. Bún bò Huế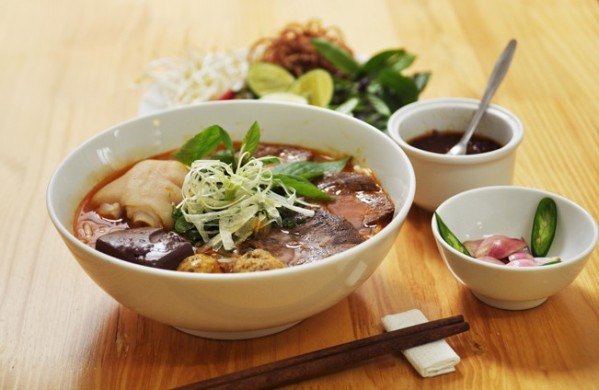 Bún bò Huế is a popular Vietnamese soup from central Vietnam, often compared to the iconic pho. The soup originated in Hue, the former capital of Vietnam, and is greatly admired for its balance and usage of spicy, sour, salty, and sweet flavors. Bun bo Hue uses rice vermicelli noodles (like in bun cha), thinly-sliced marinated beef, chunks of ox tail and pig knuckles, and sometimes, congealed pig blood. It is commonly served with a basket of herbs, with fish and shrimp sauce added for taste.
4. Hoành Thánh Chiên and Banh Bao Banh Vac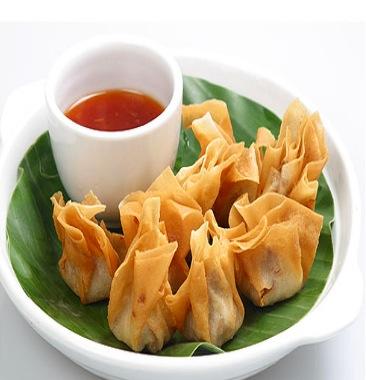 Hoành thánh chiên, or fried wontons, are a central Vietnam specialty in the enchanting town of Hoi An. Because of Hoi An's history as a melting pot of cultures, there is no surprise that the cuisine reflects the same eccentricities of the city it comes from. Fried wontons are made from fried rice paper, pork or chicken, cilantro, pineapple, onion, and numerous spices, and a delicious alternative to noodle soups. Another Hoi An specialty, banh bao banh vac, or the white rose, is a type of shrimp dumpling wrapped up and plated as a rose. The dumplings are served with crunchy pieces of toasted garlic and a sweet dipping sauce. The cakes are as beautiful as they are tasty, and can only be found in Hoi An.
5. Banh Xeo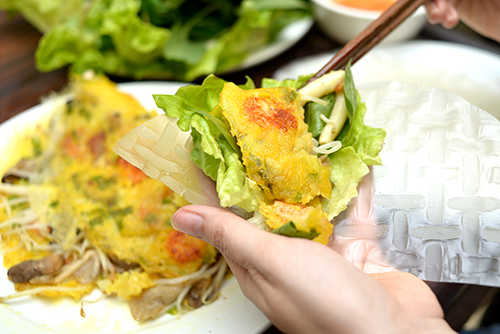 Banh Xeo, a savory fried pancake, is a southern Vietnamese forte. The rice flour pancake is flavored with coconut milk and filled with pork, shrimp, green onion, and bean sprouts. It is widely believed the dish is a spin-off of crepes from the period of French colonialism when Vietnam belonged to the Indochinese Empire. Southern style banh xeo is much larger and thinner compared to the northern and central versions, and is served folded in half. Banh Xeo is commonly eaten for lunch or dinner.
6. Nem Rán and Nem Cuốn
Nem is a popular spring-roll dish found throughout Vietnam, and refers to a sausage rolled in rice paper and then served cuốn (fresh) or rán (fried). The rolls are filled with minced pork or shrimp, and then depending on what is ordered, can come with extra ingredients, like bun noodles, bean sprouts, and cilantro.
7. Banh Mi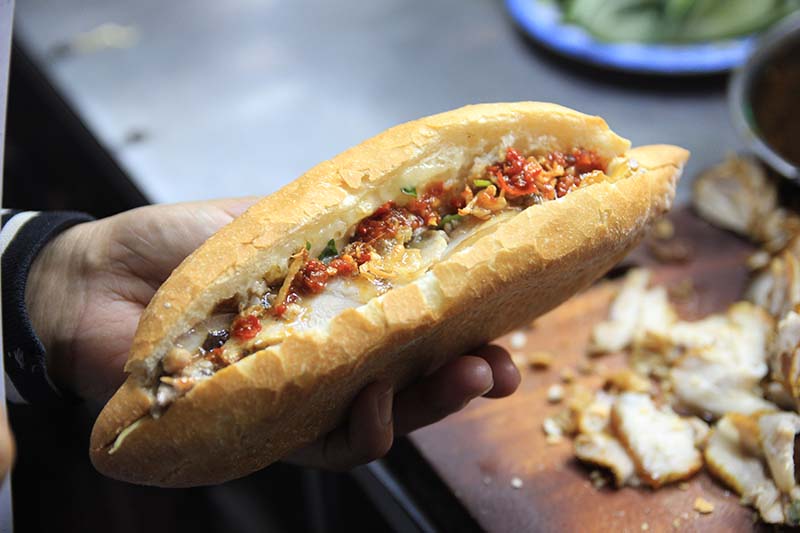 Banh mi is the Vietnamese word for bread, but it also refers to the baguette sandwich sold on streets throughout the country. Similar to banh xeo, banh mi is a remnant of the French colonialism period—but instead of using only wheat flour, the Vietnamese incorporate a mixture of both wheat and rice flour. A common breakfast food for locals, the bread can be filled with eggs, sausage, and/or pate, and garnished with cucumbers, cilantro, and chili sauce.
8. Cà phê sữa
Cà phê sữa is a traditional Vietnamese coffee that can be found on every street corner in the country. It is made from coarsely-ground dark roast coffee beans, and then brewed in a single small metal French drip filter. As the coffee drips into a small glass, it mixes with the sweet condensed milk at the bottom, making a super strong and caramelized addictive drink. Vietnamese coffee can be enjoyed with or without the condensed milk, and can be served hot or cold.
9. Cà Phê Trứng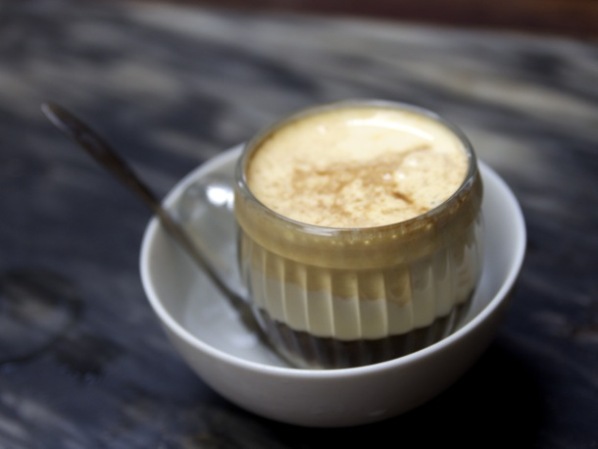 Cà phê trứng is a Vietnamese drink prepared with Robusta coffee, condensed milk, sugar, and egg yolks! Egg Coffee has been a staple in every café in Hanoi since the 1950s, and with its flavor reminiscent of the Italian dessert, tiramisu, it is a must-try for anyone visiting Vietnam.
10. Rượu nếp
Rượu nếp is a mildly alcoholic glutinous rice wine made in northern Vietnam. The alcohol is made from sticky rice that has been fermented with yeast and then steamed in a banana leaf.