Travel blogs
Vietnam Fam Trip 2016
Explore different tastes of Vietnam on your 11 days trip through some most stunning sights of the country.
Start your tour in Hanoi where everything blended together in a very 'humanism disorder' to learn about a developing Vietnam that rich in culture and traditions. Continue to Halong where you will take a stunning boat cruise thru dramatic islands to touch the greatness of nature. A short flight will bring you to Hue, the land of royal vestiges that reflex pomp ceremonies and Hoi An, the little charm World Heritage. Get to Ho Chi Minh City where you can enjoy splendid Saigon dinner cruise and experience the mighty Mekong River.
DETAIL ITINERARY
DAY 1 – 16th Oct 2016: HANOI ARRIVAL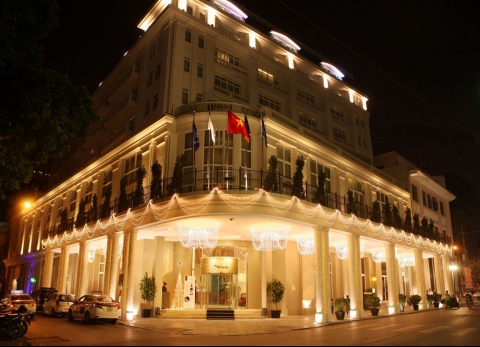 Welcome to Hanoi! Being the capital, Hanoi is the cultural, political and economic centre of the country. With its vibrant Old Quarter dotted with ancient temples in a maze of little streets lined with colorful shops and stalls, French colonial buildings and tree lined boulevards, tranquil lakes and graceful pagodas, elegant cafes and hustle street life, Hanoi is one of the liveliest and most charming cities in Asia.
Upon arrival Hanoi, you will be picked up by your private driver, transfer to hotel in Hanoi for check in procedure and free to relax after a long flight.
Meals: N/A
Accommodation: Le'Opera hotel Hanoi
DAY 2 – 17th Oct 2016: CITY TOUR OF HANOI – WELCOME DINNER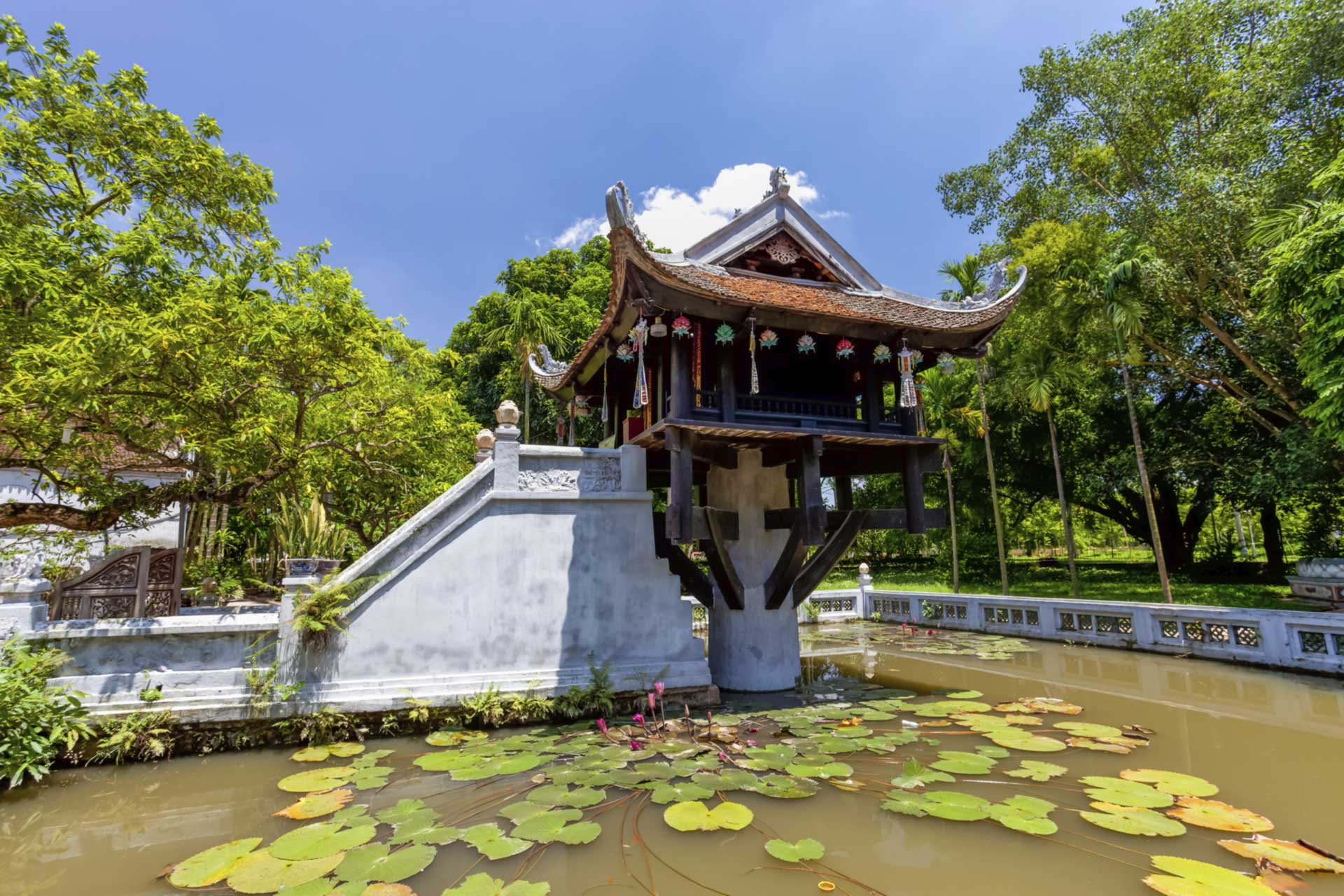 After tour brief, we start our day with visit to Ba Dinh Square and the Uncle Ho's Mausoleum, an impressive marble building where the father of modern Vietnam is at rest. Nearby, within the memorial complex is the yellow painted presidential palace and his humble house on stilts that surrounded by hibiscus fence and mirrors into still surface of a large fish pond. Next is the little One Pillar Pagoda, one of Vietnam's most iconic temples built in 1049 by King Ly Thai Tong. This pagoda has been standing as the witness for the vicissitudes of Hanoi thousand years.
Continue to the Temple of Literature, the first University of the country that built from 1076, where you can see nearly hundreds of huge stone steles standing on turtle backs and bear names of the country's men who received Doctor Laureate through royal examinations.
After lunch with Hanoi's specialties, you will take visit to one of following fascinating museums: Women museum, Ethnology museum, History Museum.
End the day with a relax cyclo ride around Hanoi's Old Quarter – a maze of streets, each one traditionally devoted to a different product or industry, witness local daily life in this lively area.
Welcome dinner today is buffet style at beautiful restaurant. It is high time to make friend and open cozy atmosphere.
Meals: Breakfast – Lunch – Dinner
Accommodation: Le'Opera hotel Hanoi
DAY 3 – 18th Oct 2016: HANOI – HA LONG BAY CRUISE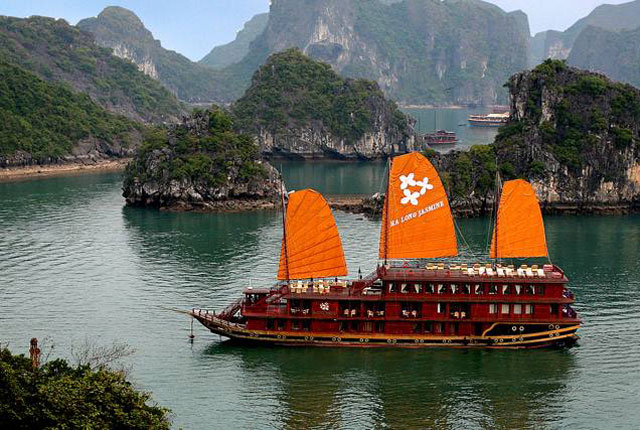 We check out hotel, take a drive through country land to Halong City, the gateway to the Bay of the World Heritage by UNESCO. Dubbed one of the most beautiful places on earth, Halong Bay is home to thousands of dramatic lime stone islands jutting off from emerald water surface. Through millions of years, waves and winds have brought this place into an amazing natural painting that overwhelms even the toughest heart with its breathtaking beauty.
Check in on board traditional styled yacht then enjoy your cruise between the towering islands whilst savor a sumptuous seafood lunch. Visit a limestone cave in the afternoon and do some kayaking and swimming (depending on the weather). Your accommodation tonight is a truly special experience – sleeping on a boat surrounded by high limestone karsts under star live sky.
Meals: Breakfast – Lunch – Dinner
Accommodation: Jasmine Yacht
DAY 4 – 19th Oct 2016: HA LONG BAY – FLY TO HUE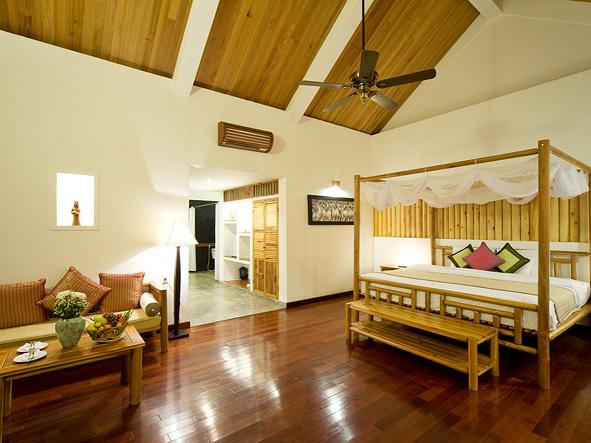 Wake up early in the morning to catch the sunrise over the Bay's spectacular landscape with a cup of tea or coffee. Have breakfast in the fresh air and then take enjoy rowing boat tour around to visit to a floating village. Later, you will cruise to visit another part of the bay and lunch will be served on you way back to the harbor. Disembark at noontime and travel to Noi Bai airportfor a flight to Hue. Get transferred downtown Hue to check in hotel an enjoy the rest of the day at your leisure.
Meals: Bruch
Accommodation: Pilgrimage resort
DAY 5 – 20th Oct 2016: HALF DAY TOUR OF HUE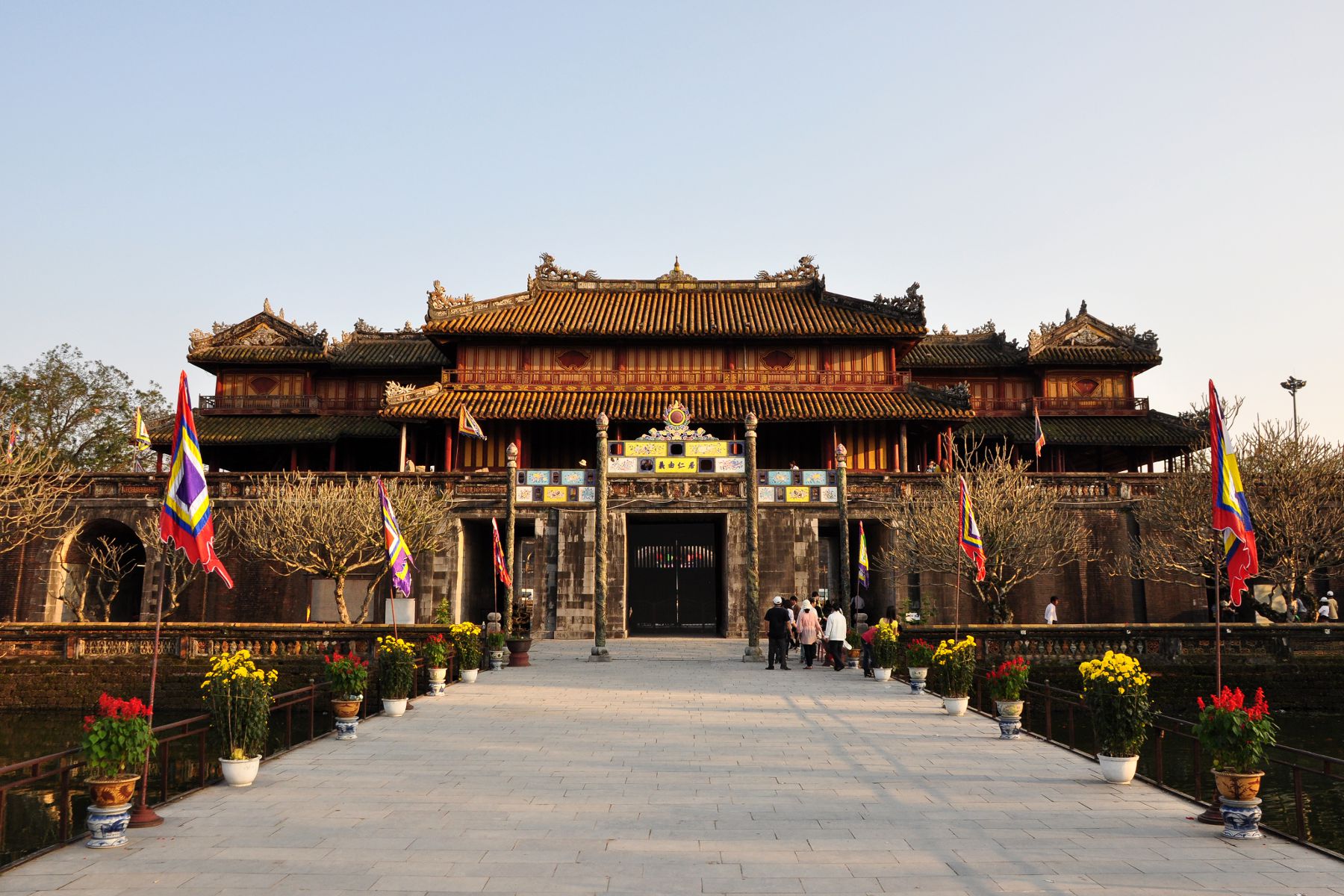 Became part of Viet Kingdom from 1306, Hue was a part of a larger betrothal gift given to Viet people by a Champa King. The land officially became capital of Vietnam from 1802 untill 1945 under the rule of Nguyen Dynasty. For now, Hue is former Imperial capital and the treasure of the country's royal past. Hue is known for its historical values and beautiful natural landscapes.
Our first visit place today is Minh Mang Emperor Tomb, a distinguished model of Hue royal architecture with symmetrical majesty, intricate decor and great combination with natural landscape.
We then board a 'dragon boat' and float on silk strap like Perfume River to visit to Thien Mu Pagoda. Adopted as the city's symbol, this is the oldest and most charming pagoda in Hue with its 7 storeys Phuoc Duyen tower mirrors into water surface. Some prominent objects in the pagoda include a huge ancient bell whose sound can be heard miles away and an Austin car that belong to venerable monk Thich Quang Duc who burn himself to death to protest the South Vietnam government's policy against Buddhism in 1963.
We will have a glimpse of Hue Imperial Citadel by electric car. This fortress-like citadel encompasses three courts covering 6 km that surrounded by massive brick walls and deep moat . There were hundreds of buildings that built in a perfect harmony and strict concept of Fengshui. Less than a third of the structures inside the citadel remain due to successive wars especially in 1947 and 1968.
We enjoy dinner today at typical garden-house restaurant before spend some time to stroll at Hue night market.
Meals: Breakfast – Dinner
Accommodation: Pilgrimage resort
DAY 6 – 21st Oct 2016: HUE – HOI AN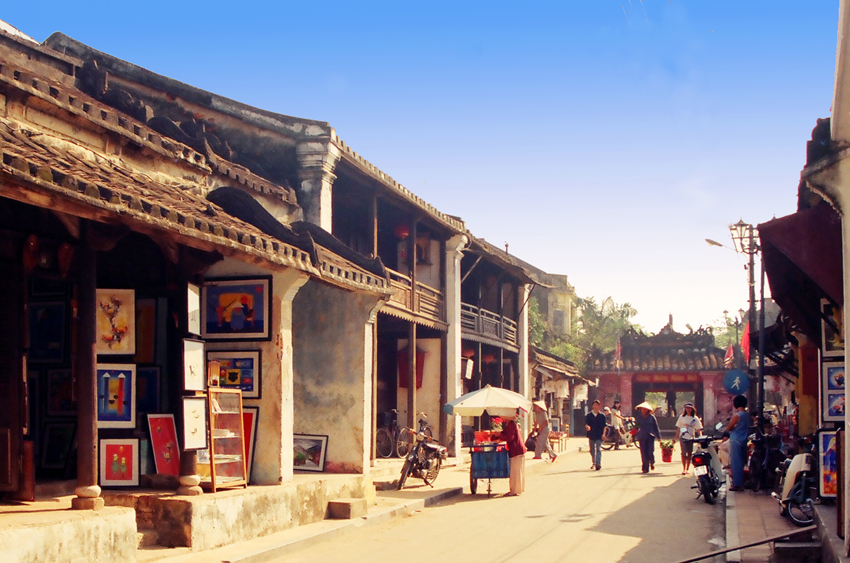 Take scenic drive to Hoi An Town with stops at spectacular Hai Van mountain peak for a great panorama view and visits Lady Buddha in Son Tra Peninsula.
Hoi An, a little ancient town nestled on the banks of the Thu Bon River is one of the World Heritages in the country. Before the river silted up, Hoi An was one of the most important trading ports in Southeast Asia. Over the years, merchant ships from both the East and the West docked in Hoi An, making it hustle commercial centre. For now, Hoi An's architecture, lifestyle and atmosphere is well preserved and combined to produce this unique heritage site. It's also a shopping paradise - with much to browse and buy.
Check in hotel upon arrival Hoi An and free to relax on beach or swimming pool.
Meals: Breakfast
Accommodation: Sunrise resort
DAY 7 – 22nd Oct 2016: DISCOVER CHARMING HOI AN – RIVER CRUISE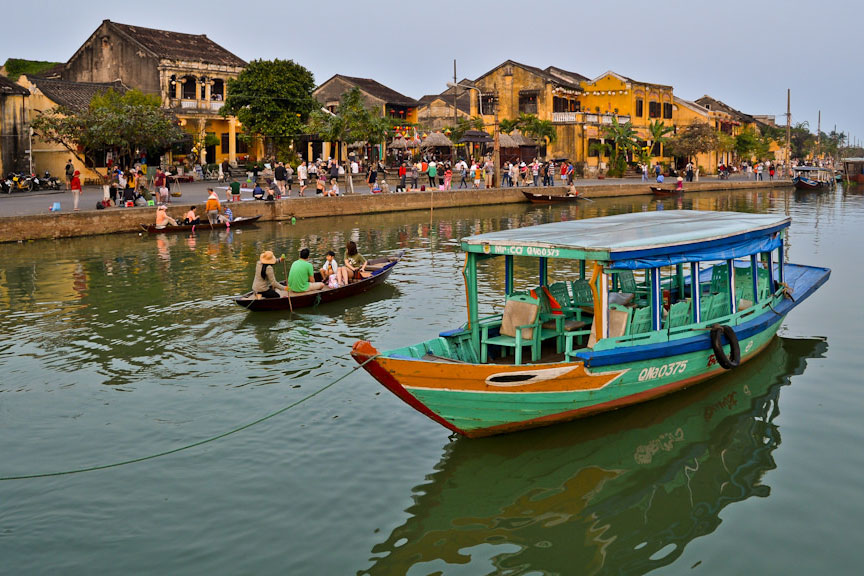 In the morning, we will take a walking tour through the Hoi An ancient quarter. Visit Hoi An Centre market, temples, assembly halls, museum, ancient houses and take a stroll along the waterfront area where local activities take place.
This afternoon is your own time to take a sit in one of elegant cafés for a cold drink and contemplate the time passing on mossy roofs and shuttered windows or shop for some fashion clothes.
At sunset, we enjoy windy cruise on the Thu Bon River where you will see about local water life and admire stunning scenery of sunset on the backdrop of mountain afar when the last sun's rays linger to the peaceful scenery and catch up the infinite hue of colors and reflections of Hoi An town at dusk. Our dinner today is set-up open-air restaurant nearby the bank river. The talent chef will cook while we feast, wonder around, chatting with free drink flow.
Meals: Breakfast – Dinner
Accommodation: Sunrise resort
DAY 8 – 23rd Oct 2016: HOI AN – HO CHI MINH CITY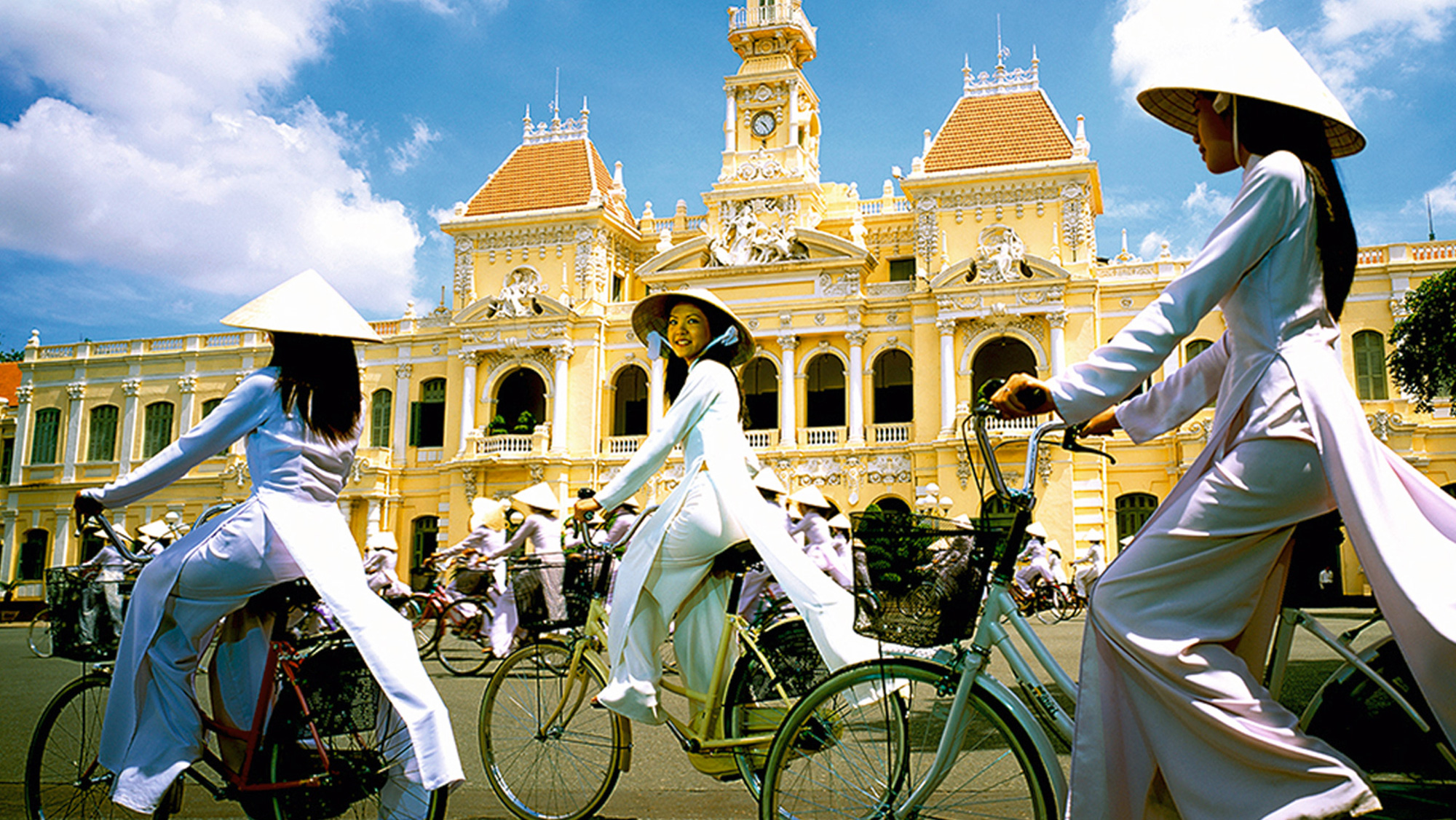 Transfer to Da Nang airport for afternoon flight to Ho Chi Minh City, the metropolis of the South.
Formerly known as Saigon, Ho Chi Minh City is the country's largest commercial hub that characterized by a vast array of sights and sounds with currents of people rushing about their life from early morning until midnight. The city contains in it a fascinating blend of old and new, East and West with new skyscrapers rising from amongst colonial vestiges and very hustle, dynamic street life.
After check in hotel, you are free to relax or take a walk exploring some city's highlights, such as War Remnant Museum, the Reunification Palace (formerly President Palace of South Vietnam), the Notre Dame Cathedral, Central Post office, Dong Khoi street – formerly Rue Catina, made famous by Graham Greene and his best-selling "The quiet American"
Meals: Breakfast
Accommodation: Majestic hotel
DAY 9 – 24th Oct 2016: EXPERIECEN MIGHTY MEKONG DELTA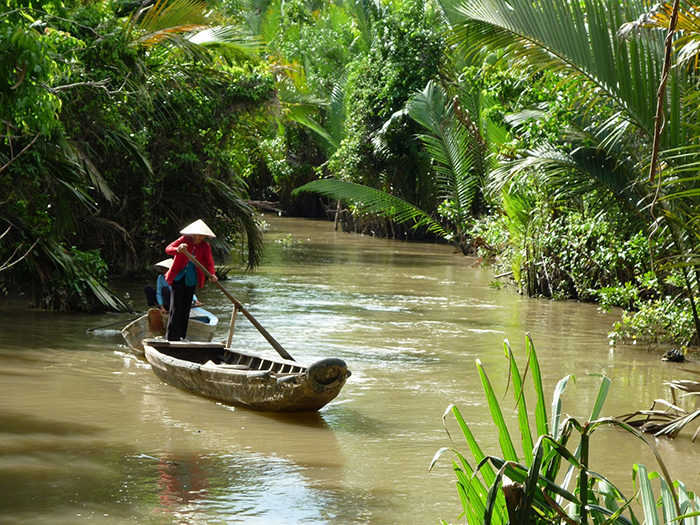 Mid-morning, we will drive about 2hours to the "rice basket" of Vietnam - the Mekong Delta. Upon arrival, we will take a boat trip for a cruise on the Mekong and explore the villages, farms and intricate waterways that form the delta. Visit to some local cottage industries and fruit garden, sample some tropical fruit that freshly picked from tree. Lunch will be served at local house before transfer back Ho Chi Minh City.
Meals: Breakfast - Lunch
Accommodation: Majestic hotel
DAY 10 – 25th Oct 2016: CU CHI TUNNELS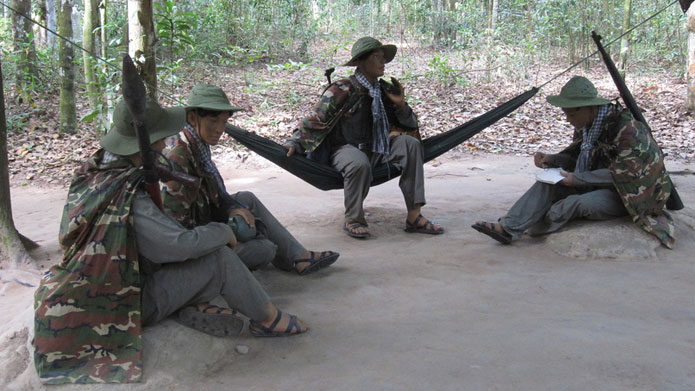 Depart Ho Chi Minh City around 9am for the Cu Chi Tunnels, a Viet Cong stronghold during the war and is one of the most famous war relics in Vietnam. This underground city stretches over 2 hundreds kilometers in the soil of Cu Chi district, about 75 km northwest of Saigon. Divided into three levels within a complicated system of rat-hole-like tunnels, there were living rooms, fighting bunkers, hospital, military workshops and cinemas and so on… with air filters, airtight covers, booby traps and sentries were all part of the system.
It is the chance for you to creep into a tunnel to experience how the Vietcong lived and fought during war timeand learn how strong people's determination can be.
Return city center, you are free for last minuttes shopping or relax for unforgetable farewell dinner.
Evening: Enjoy views of Ho Chi Minh skyline from the peace and calm of Saigon River on charming former rice barge while enjoying a buffet of classic Vietnamese an International dishes and a delicious BBQ menu. See the bright lights of the city before cruising up the river and experience Saigon from a different perspective.
Meals: Breakfast – Dinner cruise
Accommodation: Majestic hotel
DAY 11 – 26th Oct 2016: HO CHI MINH DEPATURE
Today is departure day. Enjoy some free time for last purchases or simply relax before your transfer to airport for onward flightor continuing with your extension destinations.
Meals: Breakfast
End of service
PRICE: NETT PRICES IN US DOLLAR:
Per person

Triple Room

Shared Double

Single Room

US$ 875

US$985

$ 1.565
FLIGHT TICKET CHARGE
Per person

Hanoi - Hue

Da Nang - HCMC

US$ 85

US$80
HOTEL INFORMATION
Location

Hotels

Room categories

Hanoi

Le'Opera

Deluxe

Ha Long

Jasmine cruise

Superior

Hue

Pilgrimage resort

Deluxe

Hoi An

Sunrise resort

Deluxe

Ho Chi Minh

Majestic hotel

Deluxe

Notes: The similar hotels can be replaced in case of fully book
PRICE INCLUDED:
· Private air-conditioner transfer through the trip
· Hotels as mentioned in itinerary
· Package 2days – 1night on cruise in Ha Long Bay.
· Boat trip in Hue & Hoi An
· Regional English Speaking guide
· Xich Lo in Hanoi Old Quarter
· Meals as mention above
· Dining cruise and demonstration party
· Entrance fees
· Mineral water & tissue (01 bottle/pax/day) on car.
PRICE EXCLUDED:
· Insurance
· Vietnam Visa (contact us to be supported)
· Domestic flight tickets
· International flight ticket
· Requested beverages
· Personal expenses
· Any services not mentions in the inclusion portion.
BOOKING CONDITION
· Booking deadline is 15th Sept 2016.
· The trip will be confirmed on a first come first served basis.
· Maximum 3 persons per agents/booking
· The trip is land service only, not include international flight in/out
· Contact info@ciaotravels.com for further assistance or booking.